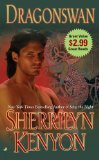 This review was originally posted on Romancing the Page in Sept. 2010.  The site is no more, so it is being reprinted in full here.
I originally stumbled across Sherrilyn Kenyon's writing on accident.  I saw a small novella titled Dragonswan when I was looking through books at the grocery store.  The artwork is what drew me first (I know, don't judge a book by it's cover), and honestly, the artwork with the celtic knots and the really handsome guy, is what made me pick up the tiny book.  I was looking for something new and figured if there was a small novella to read, I could judge if I would continue reading books by that author.
That novella sold me. After I got home, and started reading, I couldn't put it down.  At 86 pages, it was incredibly short compared to the size of novels I usually read.  However, it was very well written and told the story, generating my interest me in one of her many worlds.
Dragonswan is a great mini-introduction into the world of Dark Hunters, and is loosely based off of Greek Mythology and the story of Lycaon.  The story features an unintentional heroine, Channon MacRae, a scholar, and her soon to be Were-Dragon mate, Sebastian.  Channon gets whisked through time to the time period she was studying as a historian by Sebastian, who she doesn't know the Fates have picked as her mate.  She eventually faces a choice: save Sebastian or return to her time period without him.
The author deftly mixed romance, action and history in this short story.  Like many romance novels, you have your struggles, internal conflicts and conscience rearing it's head in both of the characters.  Unlike most romance novels, you have the supernatural elements of time travel, magical abilities and, of course, the fact there are people who like humans that can shift into other specific forms, like a Dragon.
I really enjoyed reading the book.  It was a quick read, well-written and definitely different than what I had been reading.
If you're looking for a book to read to see if you'd like reading supernatural romances, I highly suggest this book.  It will get you hooked.
For more information on her books, please visit: http://www.sherrilynkenyon.com/